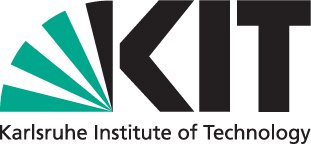 11th revised new edition 2022 of the "Karlsruhe Nuclide Chart" with accompanying booklet available now.
The Karlsruhe Nuclide Chart has been published in an extended reprint and contains new and updated radioactive decay and thermal neutrons as well as cross-sectional data for 1035 nuclides including 82 new nuclides. In total, nuclear data on 4122 experimentally observed ground states and isomers are presented.
Due to its clear presentation, the Karlsruhe Nuclide Chart is an important tool for radio and nuclear chemistry as well as radiation protection. It is used in all areas in which radionuclides are used, such as nuclear medicine or materials research.
The new booklet accompanying the Karlsruhe Nuclide Chart contains the multilingual explanation of the Nuclide Chart in German, English, French and Spanish.
Nuklidkarten online kaufen
Eine Nuklidkarte (auch Isotopenkarte, Isotopentafel) ist eine grafische Darstellung aller bekannten Nuklide (Atomsorten). Sie ist für die Kernphysik von ähnlicher Bedeutung wie das Periodensystem der Elemente für die Chemie.
Ein Nuklid ist durch die Anzahlen seiner Protonen und Neutronen bestimmt. Daher bietet sich eine zweidimensionale Darstellung aus kleinen Schriftfeldern an, in denen Namen und wichtige Eigenschaften genannt werden. Es sind verschiedene Anordnungen der Felder möglich. In der meist verwendeten Form nach Segrè wird die Anzahl der Protonen nach oben zunehmend, die der Neutronen nach rechts zunehmend aufgetragen.
Nuklidkarten listen jeweils einige Eigenschaften der Nuklide auf, wie die Massenzahl, Häufigkeit im natürlichen Element, Halbwertszeit, Zerfallsarten und Zerfallsenergien. Oft werden die Nuklide nach ihren Zerfallseigenschaften (stabil, radioaktiv, Zerfallsart, Halbwertszeit-Größenordnung) farbig markiert. Kernisomere lassen sich darstellen, indem das jeweilige Feld in Spalten unterteilt wird.